Advantage Of Chemical Immersion Cleaning
The Clear Advantage of Chemical Immersion Cleaning
What the other processes fail to deal with...
The SPL cleaning process is unique. We welcome visitors to our site and are always happy to provide each of our customers with help and advice about the process itself and how best to prepare or modify each project to ensure the best results. It is paramount to us that our customers understand what they can achieve with our process and how it can be improved by following our recommendations and thinking it through.
A shell and its panels are complex and intricate. Each individual manufacturer offers a myriad of manufacturing design and techniques, some good and some not so good. By following our recommendations we believe that you can achieve the removal of the vast majority of the rust in your project far more than any other process available.

The close up shots demonstrate the extent of the rust that can be found within the hidden recesses of a bodyshell and why these areas cannot be dealt with by conventional cleaning or blasting methods.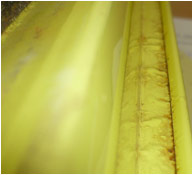 In profile the gutter seam can be seen to be heavily corroded and whilst blasting the outside area of this section would make it look clean the rust will soon return from within the joint.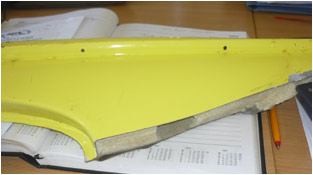 By identifying problem areas and simply providing some additional access holes for the ingress and drainage of the chemicals the SPL process can effectively clean nearly all of the rust from within the hidden areas. This section above demonstrates how searching and effective the cleaning process can be. Whilst we never guarantee 100% rust removal an area such as this could never be cleaned this effectively by any other method.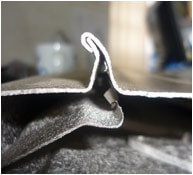 Areas with extensive corrosion damage can now be repaired before returning the shell or part to SPL for a final clean prior to the application of the chosen protection route.